The top feature request we've been getting recently is:
Please add support for auto vitals from Criticare!
Well, we're excited to announce that it's ready for public beta!
What is so "Beta" about it?
We have primarily tested against a Criticare nGenuity 8100 monitor. We're still in the process of verifying with other models. Until we get some more users on it with various types of monitors, we're keeping the "beta" label on it.
Secondly, see note at the end about using it in Chrome directly.
Seeing what it's like
Head over to the app and walk through to the "tour mode" see what it's like:
Go to: case.xchart.com and select "start a mock sedation case". Or, if you already have an account, click your name in the upper right and select "start tour mode".
Click through the tour, just be sure to select "auto vitals" tour when given the choice.
Trying it for real
Now, here's how to try it out for real:
First, you'll need a USB cable and a little device called a "null modem". Together they'll set you back about $20. We recommend this USB adapter cable and this null modem.
Now, you have two options for how to run it:

Run Chrome (please read important note about this below)
Download and install the latest version of our desktop app (available for Mac or Windows).

Hook yourself (or a friend) up to the pulse oximeter (at minimum) to make sure your Criticare monitor has at least some data to report.
Start a sedation case. (note: If you start a case in tour mode, the connections will all be simulated, so start one as if it's a real case)
You don't actually have to fill out any case/patient info, just hit the "configure monitor" button in the upper right.
Follow the onscreen instructions until you see data from the monitor in the app.
Congrats! That's it. You should see data from your monitor in the blue bar at the top of the app: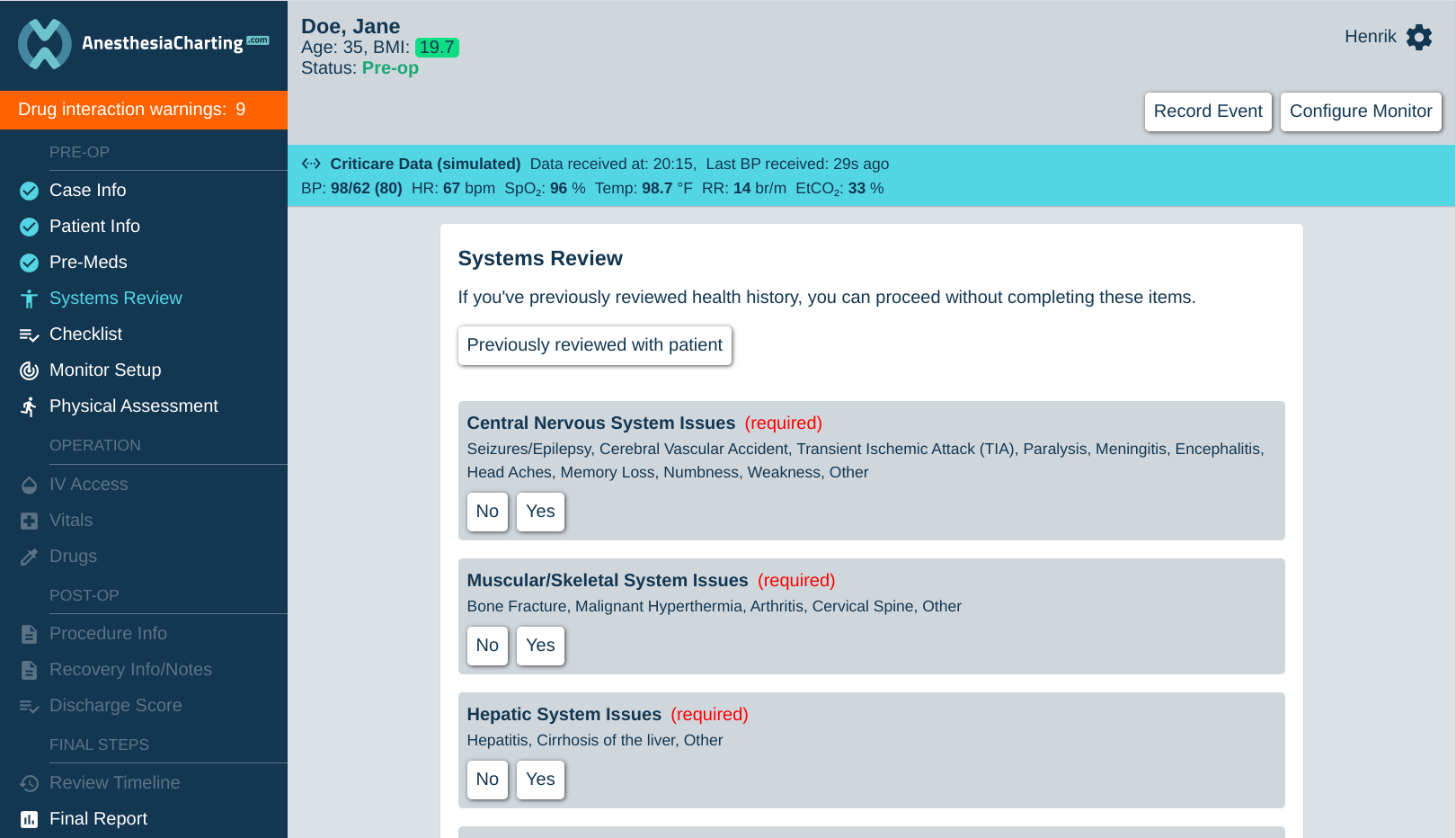 The app will get latest data from the monitor every 5 seconds and you'll see it in that blue bar across the top. This way you'll always have the assurance that you're connected and getting data:
During the case, as you reach checkpoints where vitals measurements are due, it'll simply record values from closest reading from the monitor.
Like always, you have full control over what ultimately shows up on the sedation record. So you can correct errors, makes notes about values, etc.
We really hope you like the new feature. Let us know what you think: support@anesthesiacharting.com.
Important note about auto monitoring in Chrome:
The ability to connect and talk through a serial connection directly from a website, without needing to download and install a desktop app, is using a feature in Chrome called the "Web Serial API".
The Web Serial API is on the path to becoming a standard web technology—but for the time being—it's in a phase called an "Origin Trial". We're participating in this origin trial because we think it's awesome to be able to communicate directly with a monitor over a serial connection without requiring our users to download, install, and keep a desktop app up-to-date.
But this also means that until it released as a standard part of Chrome (which is scheduled to happen later in 2020), we cannot guarantee that it will remain available. Luckily our friends from the Chrome team at Google, have indicated that it's likely to continue to be available.