Anesthesia Records Done Right.
Pro-level tools for anesthesia professionals.
check

Cloud-based. Track all your anesthesia cases in one place. Accessed securely from any device.

check

Case presets. Many providers use the same set of drugs for new cases. Your presets are automatically applied and ready to go for each new case.

check

Empower your team to help you. You can enter case data from multiple devices at the same time and everything is synchronized seamlessly.

check

Pixel-perfect records. No messy, hard-to-read, hand-drawn paper charts. Compliant PDF reports in a familiar-looking format.

check

Auto populate data directly from your vitals monitor with VitalSync™.

No more manual entry required, but you still have full control over the data on the final report. You can

read more about automatic vitals entry here.

check

Advanced features. Track infusion pumps and anesthetic gases. Plus, you have the flexibility to enter time-stamped notes for anything that might occur during a case.

check

Works with your existing systems. Use virtually any computer to generate or edit reports. The resulting PDF can be attached to your patient record in your existing EMR. Flows naturally with the process of performing anesthesia.

check

No risk! Affordable pricing tailored to deep / ga providers. First, take it for a test-drive anonymously without installing anything. Then, sign up for a 30-day trial to try it on real cases (no credit card required). After that it's $139/mo for unlimited cases. You can cancel anytime at the push of a button.
touch_app
Get started now!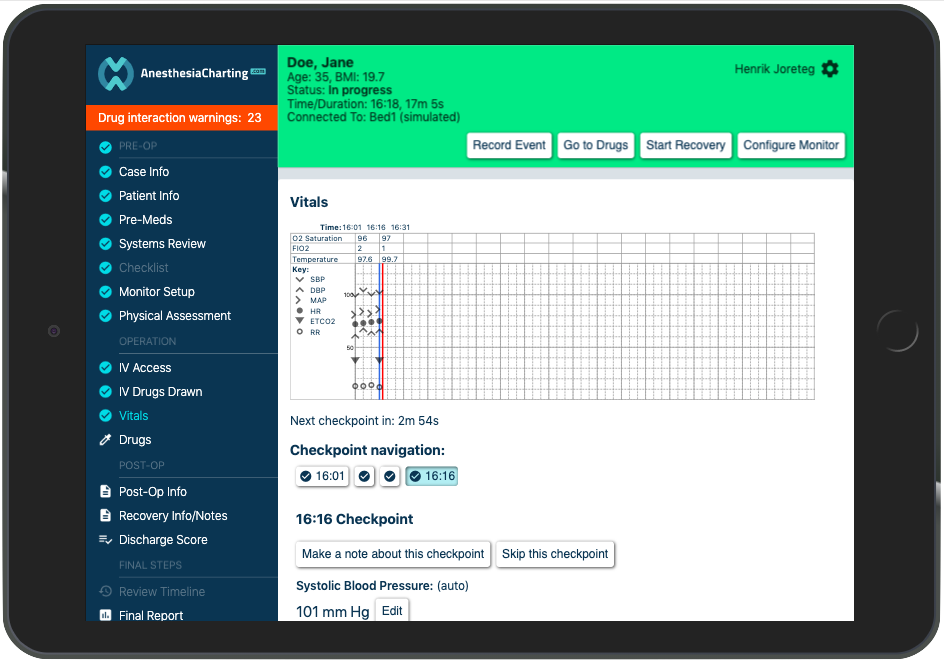 So what does it do?
timer

Saves time. Suggests the most commonly used phrases from your previous cases to make note-taking a breeze.

picture_as_pdf

Generates a PDF. Attach the report to your EMR, print it, or send it.

flash_on

Automates tedious tasks. Automatic BMI, time tracking, and drug interaction checks. Calculates dispatch score using Aldrete or PADS.

assignment_turned_in

Helps you not forget. Checklist format helps you know you didn't forget something important.

bar_chart

Calculates drug totals and waste. Track what you draw up and what you give, we'll handle the math.

edit

Review and edit before finalization. It records timestamps as you enter data, but everything is still editable in case you missed something.

touch_app

Sign it with your finger. When it's all done, sign it quickly and easily with your finger.

lock

Respects everyone's privacy. Patient data is securely stored to your own datastore in the cloud.
touch_app
Get started now!
Created and owned by industry experts
Our goal is to make anesthesia charting as smooth and automatic as possible.
Xchart is privately owned by its creators and the software is developed "in house" by software veterans in close collaboration with our customers and trusted experts in the field.
We'd love to hear how we can help you: