How much Local Anesthetic can I give?
Perhaps the most advanced local anesthesia calculator ever.
check

Up to the second toxicity estimate. Based on individual half-life of individual drugs given.

check

Show recommended maximums based on patient age/weight. Pick between manufacturer's or American Academy of Pediatric Dentistry recommendations.

check

Convert units automatically. Enter it in cartridges, mL, or mg, we'll do the math for you!

check

Auto BMI, regardless of input. Whether you enter kilograms or pounds, centimeters or feet and inches, we'll sort it out.

check

Copy/paste into patient chart. Enter it as you go, copy/paste summary into your patient chart.
touch_app
Get started now!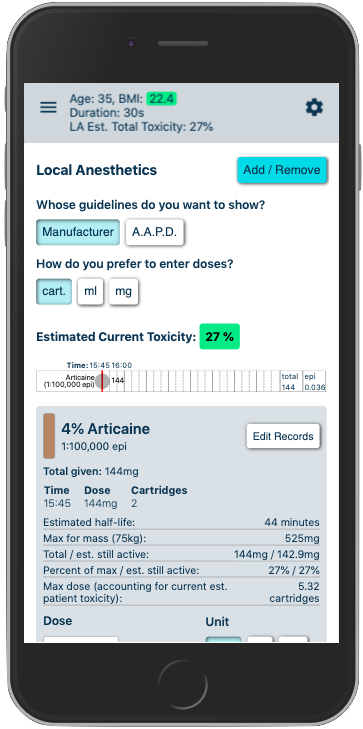 Created and owned by industry experts
Our goal is to make anesthesia charting as smooth and automatic as possible.
Xchart is privately owned by its creators and the software is developed "in house" by software veterans in close collaboration with our customers and trusted experts in the field.
We'd love to hear how we can help you: