The new integration with Zoe Medical's Nightingale PPM3 monitor provides a true "plug and play" experience.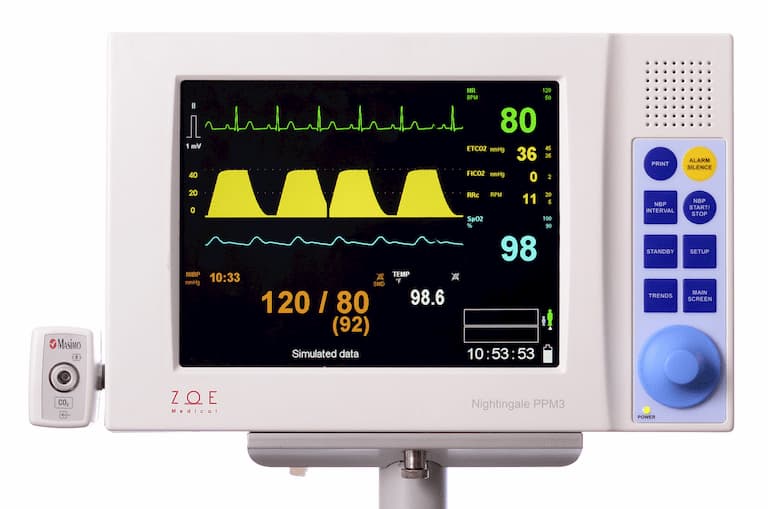 It's never been easier!
No need to download a separate desktop app.
No need to futz around with network settings on the monitor.
No wondering if you're connected or flaky WiFi issues.
Just open AnesthesiaCharting.com in Chrome or the new Edge browser, plug in the monitor using the FREE USB cable we'll give you, click "configure monitor", and select PPM3.
Plus, the capabilities of the monitor are deeply integrated into our app. So much so, that we had to give it a new name, we're calling it VitalSync™.
What does this mean for you?
Previously you had to configure an interval for blood pressure cuff measurements using the monitor itself and hope that it mostly lined up with the checkpoints in the app. But now, VitalSync™ will automatically initiate a blood pressure cuff reading exactly when it needs it.
You can now initiate and stop BP cuffs whenever you want from the app with a click of a button.
VitalSync™ will configure the monitor to use adult or pediatric settings automatically based on the date of birth and weight you enter.
If something goes wrong with the cuff and it fails to get a measurement, not only will it retry automatically, it will tell you what went wrong.
All of this happens automatically. So you can just focus on the patient.
We made a demo video showing how to set it up and use it:
How to get it
If you already own a PPM3
Lucky you! All you need is the custom cable. As mentioned in the video, it requires a cable with some special wiring.
We have nice USB-C cables for this and we'll happily send you one free of charge as long as you have a credit card on file with us and and active subscription. Just email support and we'll ship one out: support@xchart.com
If you don't own a PPM3
We were so excited about our collaboration with Zoe Medical and the deep access they have given us to this monitor's capabilities that we asked them if we could become resellers. So, this means you can buy one directly from us!
We'll get you one shipped out with all the accessories you need. All you have to decide is if you want it with or without the Masimo EtCO₂ attachment.
We're in the process of setting up a proper online store for all this, but we're already selling these packages now.
Pricing is as follows:
Without the EtCO₂ attachment: $3,400
With the EtCO₂ attachment: $4,800
Both come with all necessary accessories (BP Cuffs, hoses, SpO₂ sensor, ECG leads, etc.) and of course, the custom cable you'll need to connect it to our software.
Just reach out to support@xchart.com and we'll get you going.
If you buy a monitor from us, we'll even throw in a coupon for 3 months free software subscription!
Happy charting!